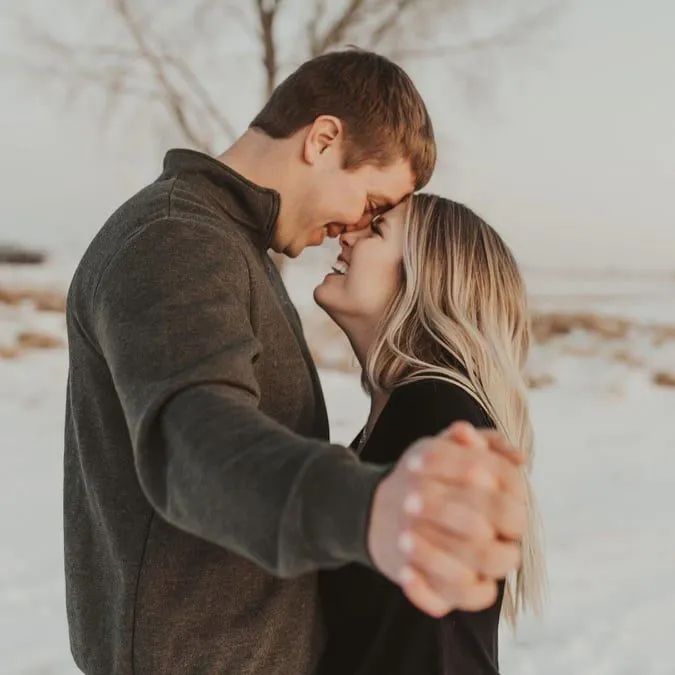 Love Stories
Mark + Sarah
"Mark and I met back in high school! I was a senior, and Mark was a junior! We were both in FFA, I joined so I could miss more days, he joined to learn something! In FFA there are conferences where we get to miss school, big reason why I joined, and at the end of the conference there is a dance! I saw Mark the first day of one of these conferences and thought, "Gosh dang that kid is cute!" I told my friend I was going to ask him to dance! Well the last day came, we danced, and he gave me his number! His version he said he and his friend put their numbers on multiple pieces of paper, but I was the only girl to get his! We texted on and off for the rest of my senior year but eventually stopped talking! In January of 2015 Mark had come to Billings to watch one of his best friends play basketball! I had been living there at the time. He texted me and wanted to meet up, and catch up! He tried to get me to leave the bar I was at to meet him at another bar. I pretended I didn't see his text and stayed at Bucks with my friends!"
"I remember thinking it was a little odd that this kid in Dickinson wanted to hang out! I figured he would quit trying to talk to me, since I never left to meet up with him, but Mark claims it was like texting a rock for the first couple weeks! I would give him the whole, "oops! Sorry! I never saw your text!" But thank gosh Mark was persistent! I finally gave in and started texting him back! We spoke everyday for about 3 weeks until finally I asked if we were ever going to meet up! The end of February came and I took the drive to Dickinson to hang out! I nearly turned around multiple times because I was so nervous and thought I was pretty dumb for driving to a town where I knew no one, to hang out with someone who I also hardly knew! But turns out it was my best decision I ever made!"
"I always told my friends the next person I dated, I would Marry! Mark and I have grown up so much in the last few years, he is my best friend! We are most excited to get married at Wildflower because it is so beautiful and it is also the place where I basically grew up! My Uncle built the cabin that we will be staying in leading up to the wedding! Getting married at a place where my uncle spent so much of his time just means the absolute world to me! He was such a big part in my life and my relationship. Getting married at the Montana Wildflower is such an honor! Ever since i used to work there I always dreamed of my wedding there! I am so happy dreams really do come true! "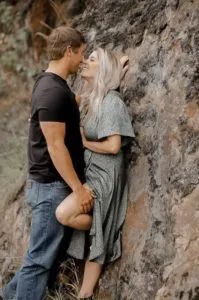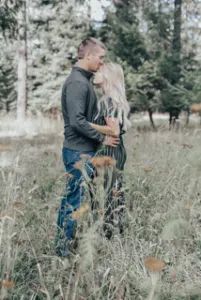 "Mark and I got engaged on November 21, 2020. I had no idea it was going to happen! We were in Red Lodge at my aunt and my uncle's home. My dad had come out to hang out with us. (Little did I know Mark had called my Dad and my Uncle that morning to ask if he could ask me to marry him!) We were just sitting around shooting the wind. I was sitting in the recliner chair and Mark was across the room in another chair. He got up to go to the bathroom and when he came out he was being so awkward, and standing next to my chair. I got super annoyed with him and told him, "GO SIT DOWN YOU WEIRDO, YOU ARE MAKING ME NERVOUS!!"
"Well, he got down on one knee and asked me in front of the most important people in my life, to be his wife. This probably seems like such a simple story, but now it means so much to me. My Uncle was diagnosed with stage four pancreatic cancer about a year and a half prior. He was going to walk me down the aisle and give me away on my wedding day. Now he still gets to be at my wedding, and he won't be hurting anymore. My Uncle Scott passed away December 28th. The fact that he was able to share in such an important thing in my life truly is the most rewarding thing and I cannot thank Mark enough for asking him for permission, and asking me to marry him with my Uncle there. The smile on my Uncle Scott's face when we got engaged, I will forever cherish. I know he was just happy another guy has to put up with a "Novasio" girl!"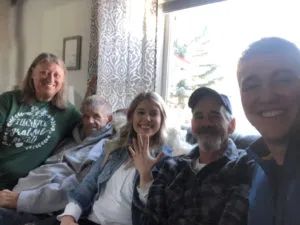 If it wasn't for Uncle Scott, the Montana Wildflower venue wouldn't be what it is today. He made it possible for everyone to say 'I do!" He purchased the land many moons ago and with his daughters vision and dreams, brought it all to life. He created everything you look for in a wedding site. The pond, waterfalls, buildings, and flowerbeds. Even the horses who run in the adjoining meadow were touch by his great love.
"What I love most about Mark is the way he cares for everyone. He loves my family as much as I love them. He truly cares for each of my family members in a way that I never thought anyone who was not family could. He also cares for me in such a special way. Its hard to describe how he makes me feel, all I know is I am so incredibly thankful for him each day, and thankful for the love he gives to me! I mean and it helps that he is pretty darn cute and has the best smile!"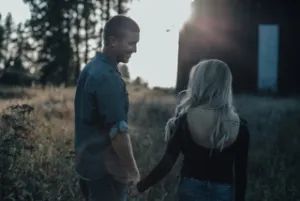 "What I love most about Sarah Mae is how she makes me a better person, she is caring, has a positive attitude, and loves unconditionally. I'm so lucky to have her in my life and to be able to spend the rest of it with her. "
Mark and Sarah will be saying their "I do's" at Montana Wildflower Wedding in September of 2020!
Photo by Lyndsey Bachmeier