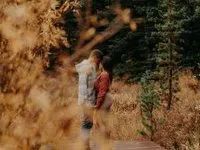 Love Stories
Ana+Mike
Our love story started at the barbershop! The day Mike and I met was just like any other day; I was waiting for my son, who was getting a haircut, when Mike walked in, and he sat next to me. We already knew each other because of social media but never met in person. After meeting at the barbershop, Mike texted me and asked me on a date, and after that first date, we knew we wanted to keep seeing each other. Once Mike and I got to know each other more, we found out that we lived in neighboring towns and that our parents and siblings knew each other. It was crazy to us that everyone knew each other except us two, but we do think that things happen for a reason, and the way we met was perfect! It didn't take long to know that our connection was very special.
The day that Mike proposed to me was on Mother's Day, and we had decided to have a little get-together with his parents and my parents to celebrate Mother's Day; little did I know that Mike had other plans for that day! Mike had talked to my son that day and told him the plan, and my son kept telling everyone, "Today is going to be a very special day." I would tell him, "Yes, it's Mother's Day. It's a special day."
Mike's mom wanted to take photos after we were all done eating, and she loves to take pictures, so I didn't find it weird or suspicious that she wanted to take a bunch of photos. After taking family photos and some with the kids, Mike wanted some of just us, and I remember being over it at that point. I was rushing him and telling him no more photos, let's be done, when suddenly, he pulled out a beautiful wooden heart shape box with our initials. It was a very special moment because I was so surprised and surrounded by the people I love.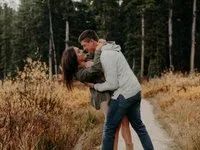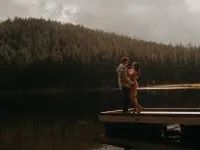 Mike and I love going to Red Lodge, especially during the fall. For our one-year anniversary, we went on a date to Red Lodge and took photos in the beautiful mountains. We said that if we were ever going to get married that it was going to be in Red Lodge. We went to Montana Wildflower Open Barn and absolutely loved the venue! It was a very rainy day, but we didn't let that stop us from exploring the venue even on a rainy day; it looked beautiful. After looking at other venues, we kept going back to Montana Wildflower! Everything about the venue is beautiful, and the scenery is amazing, as well as all of the staff!
We look forward to seeing how the venue will transform that day for our wedding and to celebrating our love with family and friends!